OMPP WOFP President
Permanent Ambassador
Carlos A. Peralta
(Biography)

The President of the World Organization for Peace (OMPP WOFP) expressed the willing of the Organization to participate in the establishment of a culture of peace and wellbeing through a programme that will start between 2008 and 2009. It will see the active participation of 160 Universities for Peace and the project "Education for all" that will include all the different levels of education and teaching. In order to reach this goal OMPP WOFP summoned people from sciences, sport, diplomacy and former heads of United Nations member states to actively contribute in the peace process and the wellbeing of humanity.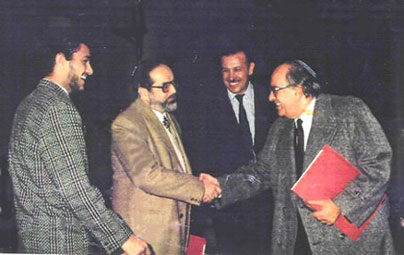 LET'S MAKE IT HAPPEN AGAIN AND AGAIN

Imam Mahmud Husain and Rabbi Marcos Edery during a Jewish-Muslim brotherly handshake in a meeting in the 1980s. In the centre, Carlos Peralta.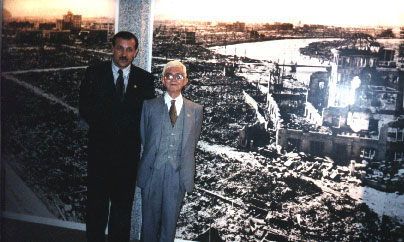 THIS SHOULD NEVER HAPPEN AGAIN

Hiroshima Peace Memorial Museum, 6 August 1995, commemoration of the 50 years of the tragedy. In the picture, Carlos Peralta and Kazuomi Takaghi under the dome built on the point where the atomic bomb exploded causing the death of hundreds of thousands of innocent victims.
CARLOS PERALTA, PRESIDENT OF THE ORGANIZATION FOR PEACE OPP 50th ANNIVERSARY OF THE TRAGIC LAUNCH OF THE ATOMIC BOMB ON HIROSHIMA
6th August 1995 –Museum of Hiroshima City of Hiroshima, Japan
More information